Miscellaneous short stories

2002
Published by Carabas
Short story 4 pages
Colours
Beaux-Arts Magazine, special issue « Qu'est-ce que la BD ? Aujourd'hui »

Janvier 2003
Short story 8 pages
« Comics history x (une brève histoire de la bande dessinée) »
In these 8 pages without hardly any word, Fabrice Neaud relates a brief history of comics.
In the page below, we can see comics being rejected by the other arts, before being finally accepted as a high form of art as well.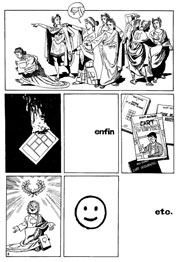 © Beaux-Arts Magazine


Winter 2003
Short story 8 pages
« Matisse Picasso »
A reportage about the Matisse-Picasso exhibition in Beaubourg.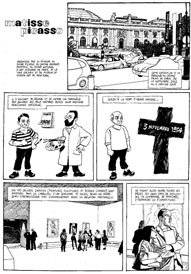 © Beaux-Arts Magazine and Casterman


Summer 2003
Short story 3 pages
« Outrages »

December 2003
Short story 5 pages
« J'appelle à un octobre rouge »

January 2004
2 short stories, 2 pages each


January 2004
Short story 12 pages
(plus 23 pages by Xavier Mussat and 3 pages by Philippe Squarzoni)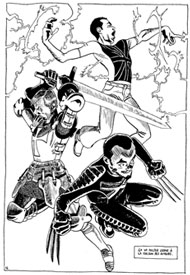 © Ego comme X


Éditeur Beaux Arts Magazine
Collection Beaux-Arts Magazine Livres
March 2004
Short story 10 pages