News
In its latest issue (March 2021), European Comics Art publishes a very interesting discussion between Fabrice Neaud and Jean-Christophe Menu.
The Comics Journal provides on its website a long interview with Fabrice Neaud.
It dates back to the 2010 Angoulême comics convention and deals with the publication of a new edition of the third volume of the Journal, among other things.
Ten pages in English of the first Journal by Fabrice Neaud, first published in France in 1996, are now available on the website Words without borders.
A complete english translation is on study: keep in touch to hear more about it in a few monthes.
Great news: A full story by Fabrice Neaud is available in English!
Besides, it is one of his most moving and richest stories.
And, last but not least, it is available freely on his publisher's website. Enjoy!
Foreword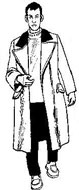 Since 1994, Fabrice Neaud has been undertaking an innovative and ambitious task: drawing his autobiography, his diary, in comics. After four books, he is now seen as one of the most interesting authors among French comics authors. The reasons for this are numerous. Let me just give you a handful of them: the more obvious ones, those you discover after but a few pages are his beautiful drawing and the richness of the topics he deals with. There are many other reasons: his composition skills, the variety of ways in which he tells his stories, the diversity of his sources of inspiration, from John Sebastian Bach to David Hockney, from Grünewald to Dave Mc Kean. Like many true innovators, his talent is deeply rooted in quite a classical tradition. His description of passion, his social commentaries, his depiction of many pitfalls of our society, his pointing out at any kind of poverty (social, intellectual or affectionnal), his views on arts and comics are only some points of interest.
...Unfortunately his works are not translated into English yet... I hope this website will give some non French-speaking readers a hint of the richness of this talented artist. And I hope also that his comics will be translated in a few years...
"The most complex and accomplished example of the BD autobiography genre is Fabrice Neaud's four-volume Journal (1996-2002). Neaud's realist graphic style offers, in places, an almost forensic rendition of life in an averagely homophobic small town, while elsewhere his experiences of marginality and of euphoria or rejection in a number of relationships are conveyed through metaphor or through blurred subjective images."
Ann Miller (2003). 'Bande dessinée' in Hugh Dauncey (ed.), French Popular Culture, an Introduction. London: Arnold.
This website is the translation of some parts of a French site. In the original website, you can find much more information and a few more illustrations...
And now, enjoy this website!
Sébastien Soleille (SeBso)
Updates
This site is regularly updated (latest update on May 5, 2021). Come and give a look from time to time!
May 1, 2021
Update of the bibliography and of the Links.
July, 25th 2012
Update of the bibliography to include Fabrice Neaud new science fiction comics, Nu Men.
April, 15th 2010
Update of the bibliography; link to the english version of Émile.
May, 5th 2006
I added a page about 'The City of Trees', the story released in 'Japan (as viewed by 17 authors)' in English.
February, 7th 2005
I translated into English a second short story, "Upside down".
November, 17th 2004
I translated into English a first short story, "Credo".
October, 16th 2004
The English version of the website is online.
February, 10th 2003
The French version of the website is online.